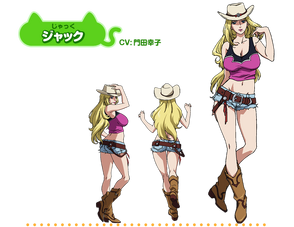 JACK(ジャック Jakku)
Despite the name, JACK is actually a woman. Her real name is:
J
anis
A
lectos
C
arotenas
K
arinato. She works for the CIA and is acting supervisor of Manami. She has noticeably long blond hair, is barely dressed (usually seen wearing a cowboy hat, denim shorts with a belt, cowboy boots, and a tank top) and is often seen eating fast food, appealing to the Japanese stereotype of American women. She drives a
Chevrolet Corvette Stingray
as her personal vehicle.
His birthday is on November 23.